Braces for Teenagers
A straighter, healthier smile could dramatically improve the quality of life for teenagers – the team at myOrthodontist can help.
---

If you're a teenager who needs orthodontic treatment, you probably have quite a few questions – especially about the impact having braces will make on your day-to-day life. You'll find some of the answers to your questions here!
How long do I have to wear my braces?
This is one of the questions we're asked most often about braces. Unfortunately, we can't give you a definitive answer to this one, since treatment duration can vary significantly based on the different needs of different patients.
The fact is, orthodontic treatment usually takes anywhere from 9 months to 5 years to complete, but on average, it lasts between 12 to 24 months. There are several factors that can affect how long your treatment takes, and some of them are in your control! These factors include:
Which problems are being corrected - Depending on the position of your teeth and how serious the problem is, your treatment could take anywhere from 12 months - 24 months. But remember, everyone is different, and some just need a bit longer.
If you've had treatment in the past - Some teens have already had Phase I orthodontic treatment when they were little. If that's you, then you'll have a bit of a head start!
How well you care for your braces and teeth during treatment - This can make a tremendous difference in the duration of your treatment. If you follow the care instructions the myOrthodontist team give you for your braces and orthodontic appliances and are vigilant about your oral hygiene routine, you likely won't need to wear your braces for any additional time.
Can I still eat normal food during treatment?
With a few exceptions, you can eat most of the foods you normally would while you're wearing braces. You'll want to avoid the following:
Hard foods - hard pretzels, nuts, chips, hard candy
Foods that you bite into - corn on the cob, apples, carrots, celery
Chewy/sticky foods - gummy bears, taffy, gum, caramels
What are my options?
Orthodontic treatment has changed substantially over the years. These days, you don't have to worry about setting off any metal detectors, and there are a lot of great options for teens available.
Coloured Braces - This could be a good option for those of you who have embraced the fact that you're going to be wearing braces for the next couple of years. You might as well have a little fun with them, so why not express yourself with some colour?
Invisalign® Teen - Invisalign straightens your teeth without wires and brackets, using a series of clear, customized, removable aligners. Invisalign is almost invisible when worn, so most people might not notice that you're undergoing orthodontic treatment.
---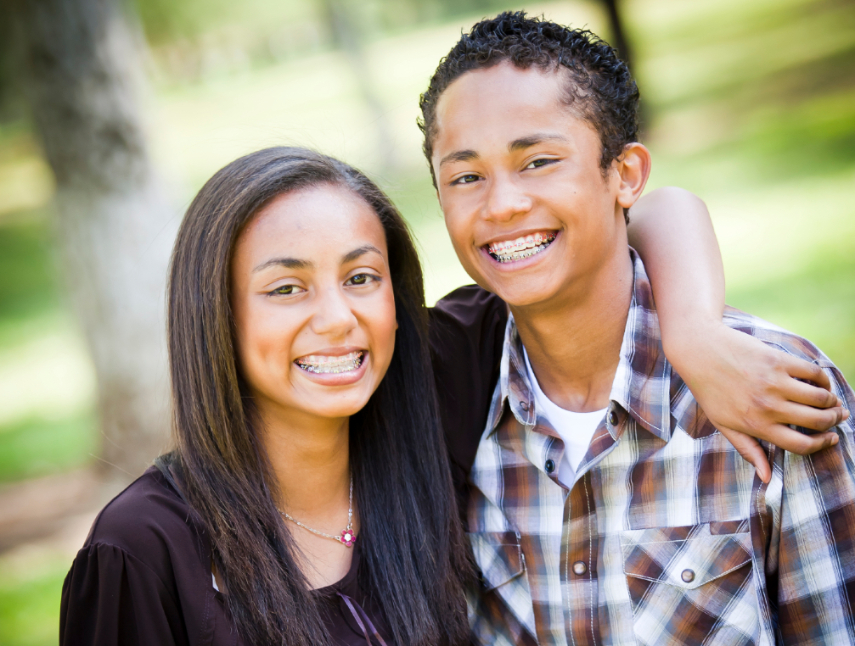 What does Phase II Treatment involve?
Phase II treatment is also called comprehensive treatment. This is because it involves full braces that are applied when all your permanent teeth finished coming in. Phase II treatment can usually begin between the ages of 11 and 13.