Invisalign Teen
A straight smile could do wonders for your self-confidence. Invisalign Teen clear aligners at Langley Orthodontics mean you can now achieve a straighter, healthier smile where people might hardly notice that you're undergoing orthodontic treatment.
---
Straighten your teeth with hardly anyone noticing!
Invisalign Teen aligners are removable and virtually invisible, which means that you could straighten your teeth with a minimum of hassle, and a low aesthetic profile.
Unlike traditional braces, Invisalign's removable aligners allow you to go on eating and drinking what you normally do. Just pop them back in when you're done!
The same goes for your oral hygiene routine. You can remove your aligners to brush and floss normally and maintain healthy gums and teeth, and there are no wires, metal or brackets to cause mouth abrasions.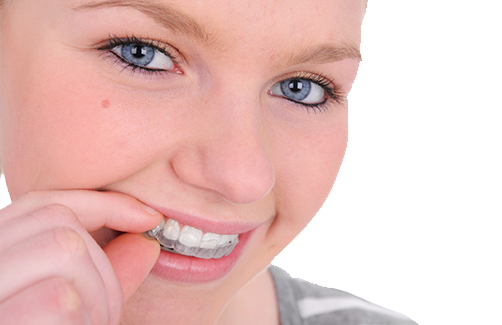 Invisalign Teen – designed with teens in mind.
In consultation with orthodontists, parents, and teens themselves, the designers of the Invisalign Teen treatment process custom-designed a system for the unique needs of teenagers.
Each aligner has a blue-to-clear compliance indicator that serves as a gauge to how long each aligner should be worn. The indicator will turn clear when it's time to move on to the next aligner.
In addition, patients are provided with six free replacement aligners in case some are broken or lost.
Invisalign Teen could be an ideal teeth-straightening system for many busy teens!
What is Invisalign Teen?
Uses no metal wires or brackets.
Custom-made for comfort.
Clear way to straighten your teeth without braces.
Series of clear, removable, custom-made aligners.
How does Invisalign Teen work?
Wear each set of aligners for about two weeks.
Remove only to eat, drink, brush and floss.
Your teeth will move gradually each week.
Visit us every 8-10 weeks.
Total treatment time averages 6-15 months.
Average number of aligners is between 18 and 30.
What conditions does Invisalign Teen treat?
Invisalign Teen can treat a broad range of dental and orthodontic conditions, which, in the past, were usually treated with traditional braces. Some of these conditions include:
Overly crowded or widely spaced teeth
Crossbite
Overbite
Underbite