Orthodontics for Adults
Orthodontic treatment can be a great way for adults to improve the appearance and overall health of their teeth, and to help prevent dental problems that may otherwise develop down the road.
---
What benefits are there to orthodontics for adults?
As you probably know, a healthy smile can play an important role in daily life, both socially and in terms of your overall health.
Orthodontic treatment can have a significant positive impact on your self-confidence, in ways you might not expect. Many people don't notice just how much self-conciousness about their teeth had been holding them back until their orthodontic treatment is complete.
After treatment, you may find yourself smiling more broadly for pictures, laughing more heartily, or even speaking up and sharing your thoughts and opinions more, all because of the new found confidence you have in your smile.
People are often surprised to hear that orthodontic treatment can have a positive impact on your overall health.
Most people think of orthodontic treatment as largely cosmetic, but in fact, straight, even teeth are far less likely to chip or become damaged, and they're also easier to clean than misaligned teeth are.
In the long run, undergoing orthodontic treatment can prevent problems like gingivitis, gum disease, tooth decay, and bad breath. A good bite also results in less strain on the muscles and joints of your jaw, and in better chewing and better digestion.
And, although orthodontic treatment can seem a bit expensive at the outset because it improves your overall dental health, it can help you avoid other more costly dental procedures later on.
Am I too old for orthodontic treatment?
Absolutely not! There is no age limit for orthodontic treatment.
We regularly treat adults and even seniors at Langley Orthodontics. This is possible because the basic biological process that allows teeth to move is more or less the same in all individuals with healthy teeth, regardless of age.
In short, it's never too late to improve the health and appearance of your smile with orthodontic treatment!
Are there options for less conspicuous braces?
With advances in orthodontic technology, braces come in lots of different shapes and sizes. Some types are virtually undetectable when worn!
Invisalign - Invisalign's clear, customized aligners straighten your teeth without wires and brackets. Invisalign is almost invisible when worn, meaning you can undergo orthodontic treatment without it being obvious!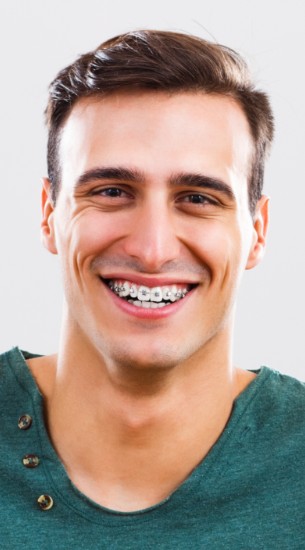 Will having braces affect my daily activities?
For the most part, your braces won't have much of an impact on your day-to-day life. After an initial period of adaptation, during which your teeth may feel a bit tender and sensitive as they adjust to your new braces, you'll find that you should be able to go right back to your usual daily activities.