Dr. Aly Kanani
Dr. Aly Kanani is a certified specialist in orthodontics practicing at Langley Orthodontics, which he founded in 2010.
---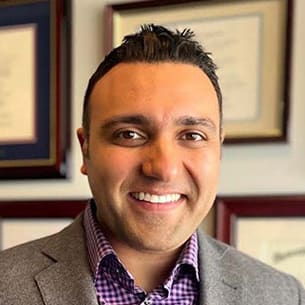 Dr. Aly Kanani
Certified Specialist in Orthodontics
BSc., MSc., MS.Ed., DMD, MS. Ortho
About Dr. Kanani
Dr. Kanani was born and raised in Vancouver. He has a Bachelor of Science (B.Sc) degree in Physiology from McGill University and received a Masters of Science (M.Sc) from the London School of Economics in England. He received his Doctor of Dental Medicine degree (D.M.D.) and also completed his Masters in Education degree (MS.Ed) at the University of Pennsylvania.
He graduated from the University of Detroit Mercy with a Masters of Science degree in Orthodontics (MS.Ortho) and a Specialty Certification in Orthodontics (Cert.Ortho). 
Dr. Kanani also previously taught clinical orthodontics to third and fourth year dental students at the University of British Columbia (U.B.C.) Faculty of Dentistry. 
Dr. Kanani served the Langley community as an orthodontist for children and adults from 2010 to 2021. In 2021, Langley Orthodontics was rebranded to Langley Orthodontics.
Since 2006, he has treated many thousands of patients and over 5000 Invisalign patients throughout the Greater Vancouver area. He was recently recognized by the CEO of Align Technology, the parent company of Invisalign, for this achievement.
Dr. Kanani is excited to return to Langley to work along Dr. Abtahi and Dr. Afrand to bring beautiful smiles to this wonderful community once again.
Your Diamond Plus Invisalign Provider
Dr. Kanani is among the top 1% of Invisalign practitioners worldwide. He is very passionate about the oral health and cosmetic benefits that Invisalign clear aligners can offer his patients at a price comparable to traditional braces.